Discpan Hands: You're Soaking In It
---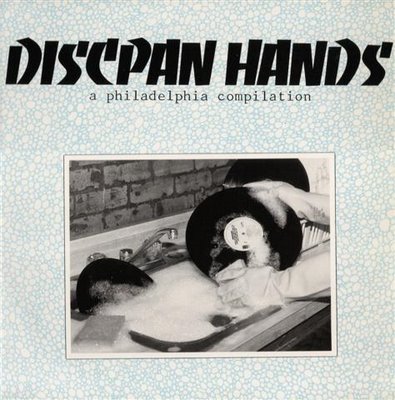 :: She Males - Love Crawl ::
:: Pagan Babies - Dirty Knees/F.Y.I.P. ::
:: The Balls - Niner Thousand ::
:: Tons of Nuns - What's It Gonna Be ::
Discpan Hands
was an LP compilation of Philadelphia area bands put out by
Rave Records
back in 1987 in a pressing of 1000. Tony and I saw a used copy of it a few months ago in a record store in Tucson, AZ, and I highly recommended it to him, but he elected to get a
Minnesota-region compilation
instead. Something to do with it having some rarity by a band called "The Replacements." Some people, go figure.
The tracks on this record were provided by a good chunk of Philly's hardcore scene at the time, though I guess a few of the tracks could be classified as pop – the one by The Balls kicks my ass every time. Two
Pagan Babies
songs appear here that would show up as different versions on their debut LP,
Next
, the following year. Look for Pagan Babies' output to be released on cd at some point in the near future.
Phil