My Other Car Is An Albert Fish
---
:: Ed Gein's Car - Annette ::
:: Ed Gein's Car - Boo Hoo ::
:: Ed Gein's Car - Making Dick Dance ::
I remember picking this LP up in the early 90's solely due to the fact that I was a morbid fucker and I thought they'd be a schlock horror band, because, you know, their band name referred to the
real life Psycho's
car. I came home, put it on and was quickly disappointed. There was some crude stuff lyrically, but no schlock, and it wasn't FAST and it wasn't THRASHY, which, at that time, were my criteria for good rockin'. So this record got shelved and ignored for a good long time while I went back to listening to things like
Danzig
. Thankfully, I eventually opened my
beautiful mind
and freed it from such silly restrictions, and have come to rediscover and appreciate this good ol' fashioned slab of garage punk rock.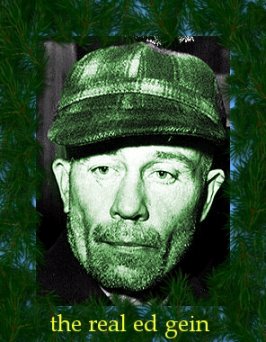 Making Dick Dance
was the only studio LP put out by New York City's Ed Gein's Car, released in 1985. It was book-ended by a 7-inch in '84 and a live LP from CBGB's in '87, and then they called it quits. Scot Weiss' vocals can be somewhat gruff, which I think I found off-putting the first time around, but I dig them now. I'm sitting here with my usual indecision in trying to figure out which songs to post - I'll go with "Annette," a nice little paean to
Annette Funicello
, everyone's favorite mouseketeer, beach blanket bimbo, and peanut butter pusher; "Boo Hoo," about NYC's vegetarian vigilante,
Bernard Goetz
; and the album title track, a real fine instrumental jam that actually makes Phil dance.
Phil