Dino, Desi and Who?
---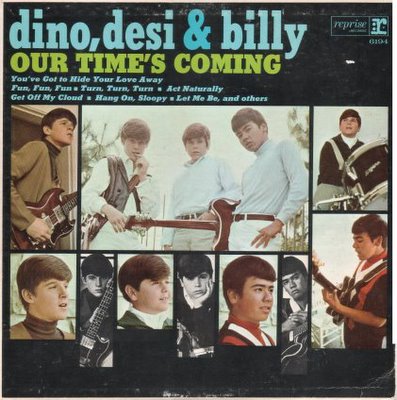 :: Dino, Desi & Billy - Let Me Be ::
:: Dino, Desi & Billy - Everything I Do Is For You ::
:: Dino, Desi & Billy - Desi's Drums ::
When the Beatles hit the big time in the good ol' U.S. of A. at the beginning of 1964, adults reacted with a mix of bewilderment, and in some cases, absolute hatred. Something tells me Frank Sinatra (for instance) most likely didn't take them very seriously, nor did he think for one minute that he might someday record at least one of their songs (he recorded "Something" in 1969 and said it was the best song Lennon & McCartney had ever written).
I remember seeing the Rolling Stones on the "Hollywood Palace" TV variety show sometime in '64. I'd never heard of them at that point, and to my 7 year old brain, I thought they were comedians making fun of the Beatles, because the show's host, Dean Martin, introduced them while winking and rolling his eyes, as if to say, "Hey, these guys are really good", wink, wink.
Even if adults thought this British Invasion crap was a joke, they certainly had to have been impressed by the money it generated. By the end of 1964, Frank and Dean made somewhat of a concession to mid-60s teen aged sensibilities by signing Dean's son and a couple of his friends from school to Frank's label, Reprise Records. Besides Dean Jr., Dino Desi & Billy were comprised of Desi Arnaz IV (son of Lucy and Desi), and Billy Hinsche, whose parents weren't famous but were rich enough to live in Beverly Hills.
Now, these were 11 to 13 year old kids, and although they supposedly played their own instruments, they most certainly didn't in the studio. For the most part, the guys you hear playing guitars and drums and such on these tunes were the usual suspects who played on just about every pop song recorded in Los Angeles during the 60s (including Frank's and Dean's records). An exception would be "Desi's Drums", in which you can hear a then 12 year old Desi beating away, but with Hal Blaine keeping time in the background. One thing Dino and Billy could do was sing, just not very well. Not surprisingly, they didn't write any of their own material either. Not at first anyway. "Let Me Be" was written by P.F. Sloan, and "Everything I Do Is For You" by Clint Ballard Jr. The rest of the album is filled out with well known chestnuts like "Get Off My Cloud", "Act Naturally", "Fun, Fun, Fun", "Turn, Turn, Turn" and of course, Beatles songs - "You've Got To Hide Your Love Away" and "Yesterday". I sincerely hope Yoko Ono regularly checks into the Record Robot, because I know she'll get a few giggles out of the fact that "Yesterday" is credited on the label as having been written by "J. Lennon". Bwahahaha!
Producer Lee Hazlewood wrote on the liner notes, "I'm asked perhaps a hundred times a week, 'What are Dino, Desi and Billy really like?'". These days that's probably down to a few times a week, tops. Hell, I doubt Lee Hazlewood even talks to more than a few people a week. Dino, Desi & Billy drove that road paved with teenage cash for as long as they could, finally breaking up in 1970. Dino went on to marry and divorce actress Olivia Hussey, then married Olympian Dorothy Hamill, then died at age 35 in a plane crash while serving in the Air National Guard. Today, the band performs as Ricci, Desi & Billy with Dino's kid brother, the unfortunately named Ricci Martin. I think they should join forces with another celebrity offspring / 60s pop star, Gary Lewis. Then they could be billed as Martin, Lewis, Arnaz & Hinsche. Or maybe not.
Mike