Circus Maximus
---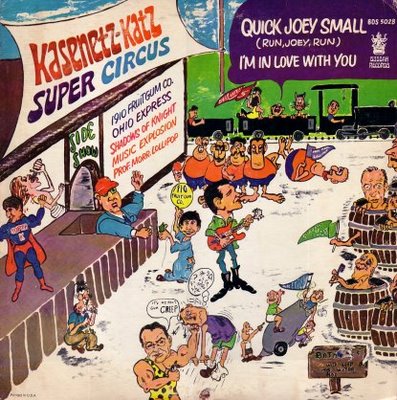 :: Quick Joey Small (Run, Joey, Run), zipped up and ready to d(own)load ::
And now, yet another follow up to
a post I did
sometime last year. At that time the album I had written about was the only Kasenetz-Katz music I'd been exposed to, except for a vague recollection of some of their late '60s hits. Thanks to recommendations from readers, I started picking up Ohio Express and 1910 Fruitgum Co. records wherever I could. Then I found this one.
I was stunned at the sight of a 2nd album by Jerry Kasenetz and Jeff Katz and their Singing Orchestral Circus (known this time as the Super Circus for added "catchiness"). I bought it without question, knowing it probably sucks. But it doesn't suck, too much.
Beyond the fact these guys had the huevos to release a 2nd album under the Kasenetz-Katz moniker, this record is stuffed with hook laden Bubblegum rock. "Quick Joey Small (Run, Joey, Run)" is a great kicker offer, and is not to be confused with David Geddes' melodramatic hit of a similar title. Next, "Let Me Introduce You (to the Kasenetz-Katz Orchestral Circus)" introduces the concept that sets the tone for the rest of the album. Not. Gotta love the spoken word intro by chief songwriters Joey Levine and Artie Resnick. Fuck yeah!
From there on it's a reliably dumb-ass pop record, until you get to "New York Woman" where the whole thing crosses over into lost Brian Wilson territory. That one's followed by the seemingly innocent sounding "Up In The Air". This song should have been a hit, and if it had been it might have saved America a few decades of misery. Oh the fuck well. Better late than never I guess.
So what the heck, might as well throw the whole album in this time. Too hard to choose. Not that the whole album is great, but there's something for everybody, and then some. So go ahead, indulge. It's impossible to overdose on Kasenetz-Katz.
Mike