Baby Songs
---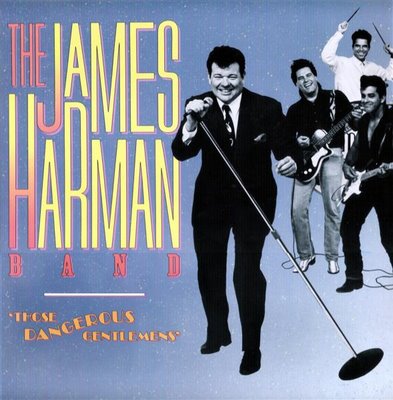 :: Jump My Baby ::
:: My Baby's Gone ::
I've been slowly sifting through a box of blues records that someone gave me a little while back. I rarely listen to the blues, but there's some really good stuff in this box and my needle has been dropping on some of them repeatedly of late – Otis Rush, Otis Spann, Buddy Guy, and some decent blues harmonica records from Little Walter Jacobs. I planned to post some of the best songs I've found on them, but a quick check on the internet shows that all of them have been released on CD and are readily available, so forget it.
Anyway, I was playing records from this little blues box over the weekend and I put this James Harman Band album on for the first time. Honestly, I thought they might be a comedy-type band, what with the "Those Dangerous Gentlemens" title, alongside the cheesy shot of the band looking anything but dangerous. Turns out it contains some pretty decent blues-rock, and James Harman is a Los Angeles area singer and harmonica player who's been playing the blues in bars since the sixties. He started up the James Harman Band in 1977 and they continue to play in pubs up and down the West Coast today, although they've gone through many incarnations over the years. This first album, released in 1987 on Rhino Records, features Kid Ramos, who went on to join the Fabulous Thunderbirds in 1995. Two songs also feature a second guitarist, Hollywood Fats (Michael Mann), who passed away before the album was released at the age of 32. You can hear his lead guitar on "Jump My Baby." The song that really hits is "My Baby's Gone," written by Dennis Linde, the man who penned Elvis' last number one hit, "Burning Love" back in 1972.
Phil