Achy Breaky Ho Ho Ho
---
:: Hasil Adkins - Santa Claus Boogie ::
There aren't many one-man bands around these days and, with the death of the legendary Hasil (pronounced "hassle," not like the herb "basil") Adkins this past April in his home state of West Virginia, we're down one more. More people know about
"The Haze"
than have heard him and a good chunk of those are because either The Cramps covered him ("She Said") or that he got retro "cred" for being released in his latter years on rockabilly label Norton or -- like the similarly-unappreciated-for-most-of-his-life R.L. Burnside -- Fat Possum. But The Haze's recording career stretched from the '50's, where he looked like a skinny, sneering greaser -- sort of a cross between Viggo Mortensen and Hank Williams around the time of his demise -- and was billed as "Hasil Adkins and His Happy Guitar," to 2000, when his last record, Norton's Poultry In Motion, was released.
To say The Haze's sound is primitive is being generous-- while his early '50's sides have an edgy, stripped-down sound, later songs have the vibe of a man fueled on radiator-distilled
white lightning
and something called
"commodity meat."
It's just him, a guitar, drums he pounds with pedals, and a healthy dollop of Appalachian-style whoops and hollers. The two major themes in his music are sex ("hunchin'" in Haze-speak) and
chicken
; the aforementioned Poultry in Motion contains songs ranging from 1955's "Chicken Walk" to 1999's "Chicken Hunch," which seems to combine these two fascinations in a way that would cause the
Subservient Chicken
to fear for his life ("Do it to the right/Do it to the left/Chicken hunch, babe/Yahoo! Yahee! Yahoo!/Chicka-chicka-chicken hunch!").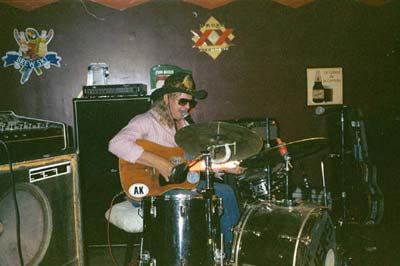 In 1998,
Shake It Records
-- both a label and a highly-recommended record store in Cincinnati -- put out the early-Haze compilation Drinkin' My Life Away. The Haze would call owner Darren Blase late at night, leaving half-hour long messages/demos on his answering machine at three in the morning. The Haze earned about $7,000 from the record, which he then promptly spent on a bulldozer that he used to dig a trench around his property and then never touched again.
Here's a dose of Yuletide Haze that will hopefully transport you to
Boone County
, West Virginia where, on Christmas Eve, Santa Hasil staggers down the chimney to deliver buckets of fried chicken and corn liquor. R.I.P., Haze.
Mark