How I Learned Indian Bingo
---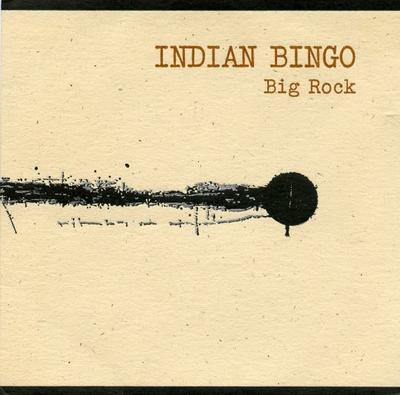 :: Indian Bingo – Big Rock ::
Indian Bingo created one of my favorite albums of all time, Scatological. When I chanced upon this 7" in Seattle, I was tickled beige. Beige? Bruce Licher's signature
earth tone printing press style
tipped off that these were probably songs from the same sessions that produced Scatological. The liner notes proved this to be the case. To my delight, its contents were just as good as most of the album tracks, however I can see where the songs might not have fit into the flow of the album. This 7", as far as I know, was the last thing they put out.
Discovering this band was a total fluke. At the beginning of 1995, the house I was living in got flooded out. Most of my clothes were carried off by the
Russian River
, and I was pretty much down to an outfit and a half. While at a mall picking up some fresh new duds, I popped into a Camelot Records and bought a stack of 50¢ cassettes for something to listen to in the hotel room until we found new living arrangements. Most of them were utter crapola, but Scatological I played to death. It's pretty melancholy stuff, reminiscent of The Smiths and Chameleons UK, and I've always found that music where it sounds like the band is sadder than I am makes me feel better. There's no doubt the album helped me through a pretty cruddy time.
A few years ago, I located the singer, Mike Boul, and talked to him a bit. He was doing a bit of graphic design for some magazines, and he still sounded sadder than I was. He told me the band's guitarist, Phil Carney, had gone on to play with Red House Painters, and when I asked if he had the lyrics for Scatological, he told me they were included with the vinyl version and that he might even have one laying around he could send me. Real nice guy; I wish Indian Bingo had gotten the attention they deserved at the time. If you like what you hear, I know you can still find used/unloved copies of Scatological on the web, including the
cassette version
for just a buck. As a matter a fact, Tone Vendor seems to carry most everything they ever did, including this single (check the link in the last sentence.)
Tony