Joe Tex, Muslim
---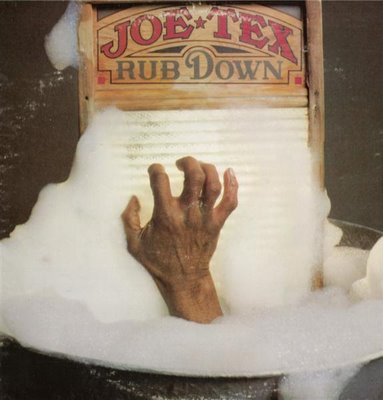 :: I Gotcha ::
:: Get Back, Leroy ::
:: You Can Be My Star ::
In 1972, just after he scored the biggest hit of his career with, "I Gotcha," Joe Tex quit performing and changed his name to Yusef Hazziez to serve Elijah Muhammed by preaching in mosques around the U.S. He had stopped eating delicious bacon and secretly converted to the Muslim faith a few years earlier in 1968.
After five years of speaking tours, the urge to get back into the studio and onto the stage hit, and Tex returned to recording and performing with the Nation of Islam's blessing. This LP,
Rub Down
, released in 1978 on Epic, is his third release after that return. There's some fun stuff on here. First off, there's a re-recorded "I Gotcha," devoid of grunts, groans and uh-huhs and transformed into a sleek ballad. Not bad, though it don't got me like the original. "You Can Be My Star" and "Get Back, Leroy" each contain hilarious, spoken-word, raving intros. I almost choked when I first heard Tex admonishing Leroy's bad taste in the type of women he steals from other men. And there's something satisfying in listening to a soul singer discuss all the things he
won't
do to prove his love to a woman for a change, as Tex does in his rambling lead-up to "You Can Be My Star." It's not as satisfying as a plate of delicious bacon, but satisfying nonetheless.
Phil